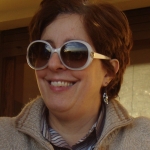 Postcards sent:
2
Postcards received:
3
Postcards in progress:
0
Stars received:
5.00
Country:
Italy
Languages:
English, Italian
Member since:
18 October 2019
Last activity:
10 July 2020
Hello,
I am Paola from Tuscany (Central Italy).
I've been collecting postcards since I was 12.

I like every kind of postcards related to places and landmarks.

I particularly love postcards with lakes, bridges, houselights, windmills, wells, fountains, castles, towers, archeological sites, rural landscapes.

I'm looking forward to your postcard.
Ciao!