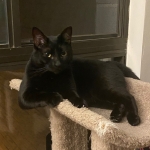 Postcards sent:
83
Postcards received:
90
Postcards in progress:
6
Stars received:
5.00
Country:
United States of America
Languages:
Chinese, English
Member since:
09 April 2021
Last activity:
25 January 2023
你好 I'm Chinese and have been living in the US since 2012. I've lived in different places in the states and mostly on the West Coast. My favorite place is Hawaii. I had so much fun and great memories there, also met my husband, Jay.

We went to Europe in 2022 for vacation. We've visited Italy, Vatican, Austria, Slovakia, France, Belgium, Netherlands and Germany. I can't wait to go back and explore more places.

I'm a small town volunteer fire fighter. I'm relatively new so there's still so much to learn. We live with a black cat Luna that was adopted from my friends in Florida.

I enjoy antique and thrift store shopping, road traveling, visiting petting zoo, listening country and pop music, etc. I drink occasionally. My favorite drinks are Mango Mojito, Blue Hawaiian, sex on the beach and Jagerbomb.

Preference of postcards:
-Fire fighter related
-Piglet
-Cardinal or Blue Jay birds
-Capybara
-Pets
-Mole/Krtek
-Vintage
-Landmarks or buildings
-Somewhere you've been before
-Funny, weird, silly, odd
-Christmas theme in winter time
-Nice and creative ad cards
-You can also send cards to my husband Jay too. He is in the USAF. He loves different histories, military related, planes, traveling and he is a big fan of currency collecting.

Anyway you are welcome to send me all kinds of postcards, even tho it might be less popular, with or without envelopes are both ok and please don't forget to put the date on it.

Thank you for reading and I'm looking forward to receive postcards from you.