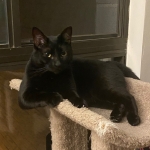 Postcards sent:
24
Postcards received:
28
Postcards in progress:
3
Stars received:
5.00
Country:
United States of America
Languages:
Chinese, English
Member since:
09 April 2021
Last activity:
13 September 2021
Hi I'm Chinese and have been living in the US since 2012. I've lived in different places in the states but my favorite place is Hawaii. I had so much fun and great memories there, also met my husband, Jay. (Update: We just got married on 4/7, we wanted as simple as possible for now, hopefully we will have a small ceremony in few years.)

I enjoy antique and thrift store shopping, road traveling, trail walking, visiting petting zoo, listening country and pop music, etc. I drink occasionally. My favorite drinks are Mango Mojito, Blue Hawaiian and Jagerbomb.

Jay and I signed up for the fire fighters at the local fire department. We just passed the PT exam recently. Hope we could pass the fire academy course in few months. (8/1/2021)

We adopted a black cat called Luna (or Mimi) in May 2021. Yep, she's the one on my profile photo. (07/11/21)

I just started doing crochet, hope I could make something nice soon! (01/18/21)

Preference of postcards:
-Pink or purple
-Piglet
-Cardinal or Blue Jay birds
-Capybara
-Pets
-Mole/Krtek
-Vintage
-Landmarks or buildings
-Funny, weird, silly, odd
-Christmas theme in winter time (Greeting cards are welcome, but no religious cards please)
-Nice and creative ad cards
-You can also send cards to my husband Jay too. He loves different histories, military stuff, traveling and he is a big fan of currency collecting.

Anyway you are welcome to send me all kinds of postcards, even tho it might be less popular, with or without envelopes are both ok and please don't forget to put the date on it.

Thank you for reading and I'm looking forward to get postcards from you.