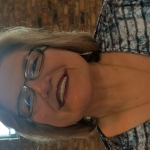 Postcards sent:
4
Postcards received:
4
Postcards in progress:
1
Stars received:
5.00
Country:
United States of America
Languages:
English
Member since:
12 May 2022
Last activity:
03 August 2022
Hi! I'm Janet from Dallas, Texas, USA. I've just recently begun exchanging PC's and I'm already addicted! It doesn't matter which postcard you send, as long as you send one! I love ALL animals, gnomes/gonks, scenery (of your city/town/country), popular sports in your country or anything that is your favorite!