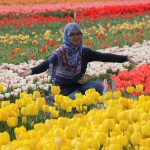 Postcards sent:
1
Postcards received:
1
Postcards in progress:
3
Stars received:
5.00
Country:
Indonesia
Languages:
English
Member since:
30 March 2021
Last activity:
17 October 2021
I am a civil servant working for local government in Depok, West Java, Indonesia. I'd love to receive any kind of postcard representing your region, but will be super happy if you send me postcards featuring mosque, museum, post office, train station, airport, university, or historical building of your city/neighbourhood. I am also collecting unofficial GF of cities and Loupaper US states cards :)

Stay safe and healthy!