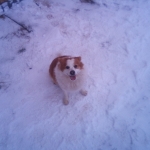 Postcards sent:
34
Postcards received:
38
Postcards in progress:
5
Stars received:
4.94
Country:
Russia
Languages:
English, Russian
Member since:
07 March 2021
Last activity:
25 January 2022
I work as a nurse. I love to travel. I swim. If possible, send postcards with maps of your city. I would also like to receive postcards with illustrations by Inge Löök. I really like the American actor Kevin Bacon. I've never seen a postcard with him, but what if? I would also like to receive postcards with the metro map from different cities. I'll be glad of any postcard. Have a nice day!
Postcrossers from Germany! Please, if anyone has one, send me a postcard from DDR! They are very beautiful and of excellent quality. From a set or single-it doesn't matter. I dream of getting at least one.
Dear postcrossers of the Republic of Belarus! I received a great card of the series "Belovezhskaya Pushcha" - European ROE deer (the size of the card is 13x18). If someone has other postcards from this series, please send them. I will exchange any other one of your choice. Thanks.
Dear postcrossers from Japan and the USA! I do not know if there are postcards with photos of Yuzru Hanyu, Shoma Uno, Daisuke Takahashi and Nathan Chen! But if possible, I will be very happy to receive them. Please write your return address, I will send you a postcard in response. Thanks.