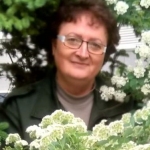 Postcards sent:
4
Postcards received:
2
Postcards in progress:
2
Stars received:
4.50
Country:
Russia
Languages:
English, Russian
Member since:
15 August 2022
Last activity:
25 November 2022
My name is Irina.I live in the small city of Kolchugino nearby Moskow.
I like to enjoy the silence, love Golden autumn, rain, coffe, dry red wine, delicious fish, doramas, my Siamese cat Thomas, sea, warm sand… But actually I'm a very lonely person.
If you are not sure, what to write try one of these:
What is your favourite book or movie? Where would you like to travel, if you had the chance to? Where have you already travelled to? What should I never do or say to people in your country? What is your favourite joke?
Maybe you can translate "Hello" and/or "Thank You" in your language That would be great..
And if there is text on the card in your language, please translate it for me. I would really appreciate that.