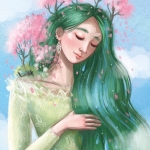 Postcards sent:
19
Postcards received:
16
Postcards in progress:
0
Stars received:
4.84
Country:
Russia
Languages:
Some German, English (with translator), Russian
Member since:
12 September 2021
Last activity:
03 July 2022
Hello, friends. My name is Marina. I live in Russia in the Urals.
I live with my husband and son. My son goes to school. We have aquarium fish.
I like postcards that depict bouquets of flowers in vases, blooming gardens, orchids, little birds, horses, views of night cities.
I like the image on postcards of everyday life of people, elderly ladies, grandmothers
I also love fabulous postcards with fairies, mermaids, gnomes. Everything is cute and beautiful.
There are topics that I don't like: politics, sex, gothic, movies and TV shows that I haven't watched.
Please do not send promotional and homemade postcards.
All good mood and pleasant communication!