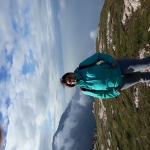 Postcards sent:
27
Postcards received:
32
Postcards in progress:
1
Stars received:
5.00
Country:
Italy
Languages:
Italian, English,a bit of French and Spanish
Member since:
27 October 2019
Last activity:
19 November 2020
Hello! My name is Rita, I m 34 years old and I live in Bagnacavallo, in the region of Emilia- Romagna, Italy.I m married and I have a dog, Stella.
I love travelling, penpalling, walking, postcrossing and reading.I like touristic postcards, with animals, recipes and handmade.