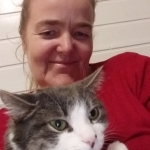 Postcards sent:
20
Postcards received:
26
Postcards in progress:
0
Stars received:
5.00
Country:
Norway
Languages:
English, Norwegian, Swedish, Danish
Member since:
12 February 2020
Last activity:
25 September 2022
Hi. I am Inger (48). I love to travel, and travel as much as I am able to. During winter I feel like I was born in the wrong country, I just wait for the spring and summer!! I have a son (24), a daughter (19), cats and boyfriend.

I like colorful cards, cats, cute kids and animals, books/reading, Edition Tausendschön, Inge Löök, people in traditional dresses.

I do not mind home made cards.