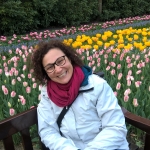 Postcards sent:
27
Postcards received:
31
Postcards in progress:
0
Stars received:
5.00
Country:
Italy
Languages:
Italian, English, French, Spanish
Member since:
19 February 2022
Last activity:
19 January 2023
Hello everybody.
I think to exchange postards is a way to meet people and to travel all around the world, it is a way to know different culture than mine.
I love cinema, poetry and literature. I adore reading: it is another way to travel and to learn always something more.
In my house live 4 cats (I think I'm their human toy).
I do not have special wishes, I would love whatever you will send me.