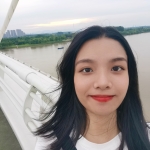 Postcards sent:
7
Postcards received:
7
Postcards in progress:
0
Stars received:
5.00
Country:
China
Languages:
Chinese, English, Cantonese
Member since:
08 December 2021
Last activity:
04 November 2022
Hello, I am Yuhua. I live in Foshan, a city in China. I am now a college student majoring in Landscape Architecture.

I am rather introverted and quiet. I usually read novels and watch movies, or documentaries. I am really into mysteries. I have been to Beijing, Shanghai, Guiyang, Nanjing, Shenzhen and other cities, but China is very big and I want to go to more places to experience the local culture and try the local food, and if possible I also want to travel abroad...

I love trying new things like playing ukulele, cooking, gardening, etc. It keeps me curious and alive. What I enjoy most is crafting, and there are some architectural models I made at home.

I love postcards depicting the place where you live, landscapes, sunset/sunrise, foods, culture, buildings, festivals...

But all kinds of postcards are welcome.

I am grateful for any postcard you wish to send me.
Can't wait your postcards!