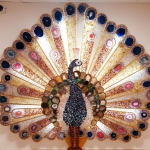 Postcards sent:
58
Postcards received:
61
Postcards in progress:
0
Stars received:
5.00
Country:
Germany
Languages:
German, English
Member since:
03 March 2021
Last activity:
04 August 2022
Hello everyone,
my name is Doris, I am 38 years old and I have a husband and a son(17) with whom I live in a small village near Munich.
I like reading, spending time with my friends/family, self-made things and good food.

And I love postcrossing. :-)
I love sending and receiving postcards, so now I've ended up here too.

I would be very happy if you could tell me something about yourself, the things you like, the books you read or anything else that is happening in your life.

I like all kind of cards and every card is special to me. :)
But if you want to make my day, here are a few infos about the things i love:


- cute cards (like japanese illustrations/kawaii, fruit with faces, NO animals)
- Mila Marquis
- heartwarming motifs
- feathers & dreamcatchers
- self-made cards
- Lali Riddle cards
- kawaii
- Edition Tausendschön
- map cards
- greetings from ... (from https://www.postallove.com/) or unofficial
- World Travel-Serie: https://wt.nisan.tw/
- MOTW
- FOTW
- all postcrossing cards

I look forward to your postcards.