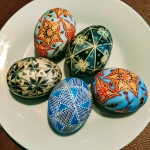 Postcards sent:
30
Postcards received:
24
Postcards in progress:
6
Stars received:
5.00
Country:
Greece
Languages:
English, Greek
Member since:
31 May 2022
Last activity:
30 November 2022
Hello, friends!

I come from beautiful Western Pennsylvania in the USA. I spend half of my time in Pittsburgh, and the rest in Athens, Greece.

You have the freedom to send the cards you like to send! It makes me sad to see long lists of demands not to send this, that, or the other thing. If you need ideas for cards to send, see my interests and wishes below. I appreciate the effort that goes into each and every card that I receive.

SWAP REQUESTS (please message me first if interested):
* MAXICARDS: See my Greek maxicards available for trade at https://bit.ly/Greek-Maxicard-Offer
* HANDMADE SWAP: I make one-of-a-kind postcards, usually with machine-appliqued fabric and paper

When you write, can you tell me something about yourself? Here are a few ideas if you can't think of anything:

* Tell me something about your mother or grandmother.
* Tell me about a food that is very strange, but delicious
* What was the happiest day of your life, and why?
* Tell me a secret.

I love stamps! Multiple stamps, especially ones that relate to my interests, will make me happy all day.

MY INTERESTS:
- Natural fibers: sheep and wool, silk, cotton, flax, hemp, other plant or animal fibers
- Fiber processing: combing, carding, spinning, & natural dyeing
- Textile arts: weaving, braiding, knitting, crochet, lacemaking, embroidery, batik, sewing, quilting, & other textile arts
- Fashion, historical fabrics, folk costume
- Folk crafts, musical instruments, decorative arts, skills, tools, & techniques
- Botanicals, herbs, trees, and plants and their uses; human connection to the earth
- Mushrooms, fungi, & lichens
- Foods, cooking, & eating traditions; unique local foods, ingredients, & recipes
- Woodworking, metal work, paper arts, glass.
- Round or spherical houses, treehouses, floating houses, other unusual or interesting human dwellings
- Folklore, fairy tales, fantasy, science fiction
- Eggs: bird's eggs, reptile eggs, eggs found in nature or embellished by human hands
- Geometry, symmetry, islamic art, decorative arts, symmetry in nature, Fibonacci sequence, spirals, geodesic domes, origami
- Sheep and lambs, cats of all kinds, animal parents & babies, cool or remarkable animals like manatees, koalas, pangolins, kākāpōs, quaggas, chameleons...

OTHER POSTCARDS I LOVE:
- works of art
- natural landscapes: forests, trees, flowers, autumn scenes, deserts
- Blue Cats (Rina Zeniuk)
- Lou Paper
- maxicards (unwritten in envelope if possible?)
- gotochi or shaped cards
- political humor, especially left-leaning/progressive
- LGBTQ+ themes & stamps

FAVORITE PLACE: the forest

FAVORITE COLORS: shades of green, cobalt blue, cornflower blue, various reds (used together), peacock colors, egg yolk, orange

I BELIEVE that every person should live with health, abundant happiness, self-determination, and creative expression. Let's treat each other and every living thing on the earth with kindness and respect.

Thanks for reading this.
LIVE LONG AND PROSPER!