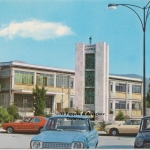 Postcards sent:
19
Postcards received:
23
Postcards in progress:
0
Stars received:
4.89
Country:
Italy
Languages:
Italiano
Member since:
16 November 2019
Last activity:
19 September 2021
I'm Italian. I'm also a member of postcrossing with the nickname dicos0.
I'm looking for direct swaps from USA because I collect Uncle Scrooge gadgets.
I collect postcards of Uncle Scrooge, Walt Disney Cartoon, Casagiove and Copertino (Italia), Napoleonic Wars and Italian Risorgimento.
I like cards picturing chickens or pigeons.
Photo vintage.

My name is Luigi and I collect stamps, postcards, coins and toy soldiers. Also old books.

I started collecting stamps when together with toy soldiers I received as a gift a few depicting Napoleon Bonaparte.

I went to the cards after he began to travel for work-study first then love.

I am looking for postcards of two cities in particular, Casagiove and Cupertino.

I hope this site can make some good friendships.

Mi chiamo Luigi e colleziono francobolli, cartoline, monete e soldatini di piombo. Anche libri antichi.

Ho iniziato a collezionare francobolli quando insieme a dei soldatini di piombo ho ricevuto in regalo alcuni che raffiguravano Napoleone Bonaparte.

Alle cartoline mi sono avvicinato dopo aver iniziato a viaggiare prima per studio-lavoro poi per amore.

Cerco cartoline di due città in particolare, Casagiove e Copertino.

Spero che su questo sito possa stringere delle belle amicizie.