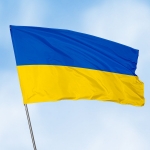 Postcards sent:
75
Postcards received:
79
Postcards in progress:
0
Stars received:
5.00
Country:
Russia
Languages:
Russian, English
Member since:
29 May 2020
Last activity:
30 November 2022
I am ashamed of my country actions! :(
❤️Ukraine❤️
Will the world be ever able to forgive Russia?

Hello!
My name is Mikhail. I live in Moscow.
I registered on this site because I like the idea of geographically matching postcards. There are plenty of possibilites, for example you can send a postcard with:
- something located exactly in the city / town you send it from;
- local nature;
- notable people (from the city / town of their birth or residence).
Or something else geographically matching.
Please, don't use an envelope and write the name of your location and current date.
Thank you!