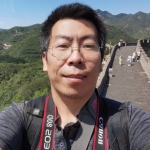 Postcards sent:
30
Postcards received:
29
Postcards in progress:
0
Stars received:
4.93
Country:
China
Languages:
English
Member since:
19 April 2021
Last activity:
24 October 2022
Hi! Cześć! ?Hola! Γεια! Привет! Hallo! Hello! Ciao! Salut!

I'm Zhenyu Li live in Beijing of China.
I love traveling and enjoy everything I had never known.
I have been to USA, Canada, Thailand, Singapore, Australia, Maldive, and so on.

I would like it if You tell me something about: the card, Your culture, country, language and/or about your life!
It would also be nice to see words in your own language with the translation behind it. Or write `China´ in your own language.
Please use nice / commemorative stamps, using multiples where possible because I love seeing variety of beautiful stamps on postcard.

I collect first day cover, stamps, coins, banknotes or other vintage stuffs.I would be very happy if u could include any of them in envelope for my collection.

When I received a postcard with awesome stamps, it is always wonderful to think of the journey it made-the distances, sea, borders it crossed.
I look forward to your reply.

Happy day to you!

Please NO political related and AD cards, Thanks.

Thank you! Muchas gracias! Obrigado! ありがとう! Grazie! 감사! Merci! Ευχαριστώ! Danke schön! תודה! Takk! Go raibh maith agat! شكرا! Dankzij! 感謝!Спасибо! Dziekuję! धन्यवाद! Bedankt! Teşekür ederim! Köszönöm! Дякую! Mulţumesc! Kiitos! Hvala! :-D...