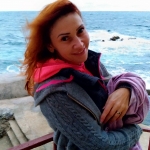 Postcards sent:
14
Postcards received:
11
Postcards in progress:
2
Stars received:
4.64
Country:
Russia
Languages:
Русский
Member since:
27 September 2019
Last activity:
24 August 2022
I like postcards with the image of birds, sea animals, polar bears, lighthouses, lanterns, tigers!) You can send a postcard - the recipe!))

You will make me extremely happy if you send me a small coin of your country in an envelope.