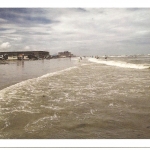 Postcards sent:
5
Postcards received:
5
Postcards in progress:
3
Stars received:
4.80
Country:
United States of America
Languages:
English and Romanian
Member since:
21 April 2021
Last activity:
27 November 2021
I live on an island on the Gulf Coast of Mexico. I love the ocean and the beach, they are therapy to me!
I like nature and I like to walk! I like to travel and I like to learn about other cultures! I like to read, to write, to listen to music! I like postcards and stationary in general, but postcards in particular! I like to cook , to plant, to decorate, to create , and that is why I am learning to paint at the moment.

When it comes to postcards, I am not fond of pray animals, or anything offensive, naked or in bad taste.