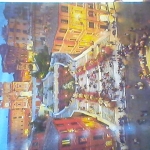 Postcards sent:
21
Postcards received:
26
Postcards in progress:
0
Stars received:
5.00
Country:
Italy
Languages:
italian, english, french
Member since:
22 December 2020
Last activity:
28 March 2022
HI, my name is Stefania, I live in Rome,I write in English, French and Italian languages.
I love reading, writing letters and postcards from all over the world. I love animals and nature too.
I like postcards depicting the place,city, nation whereyou live.
Tell me about your customs and traditions.
Write me soon!