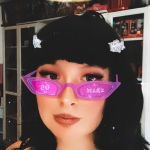 Postcards sent:
36
Postcards received:
43
Postcards in progress:
0
Stars received:
5.00
Country:
United States of America
Languages:
English, русский.
Member since:
09 November 2021
Last activity:
13 August 2022
Born in Moscow Russia , moved to Los Angeles CA in 2015.

I have a huge Barbie and Bratz doll collection so my dream postcards are the once related to Barbie and Bratz dolls :)

I also love deserts and canyons, mountains and forests, national parks, big cities, castles, wild animals, black and white photography, rock bands, Mucha art, and cute Yorkshire terriers. Check out my favorites if you need more idea of what I like. Or feel free to send anything you think is cool! The only things I don't like are religious, handmade, ad/free postcards, sharks.
I'd love to read about you, your hobbies, your pets, favourite places, music that you like etc. If it doesn't cost you more, could you put your postcard in an envelope? I've been getting a lot of damaged postcards recently, US post office doesn't treat them with care.

If you're from US, I love "Lantern Press Original Poster" series showing national parks.

Postcrossers from rare countries, please send a typical tourist postcard! Thank you :)

Hope you have a wonderful day!
—————
If you have a Pokémon, red panda or squirrel postcard, my husband would love these! (His name is Pat)
—————
Дорогие русскоязычные посткроссеры, пишите пожалуйста на русском! Это мой родной язык, и хоть я и знаю английский, на русском получать открытки куда интереснее. Спасибо!